David Wood, PCC: Authority on Life and Business Coaching
"What do you get when you cross a leading life coach with a stand-up comedian? A dynamic and lively guest!"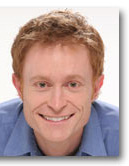 David Wood, PCC
Bio
A former actuary and management consultant, David Wood is a certified life and business coach with a passion for internet marketing.
He has also been a certified snowboarding instructor, squash instructor and State 3 Player, hang glider pilot and stand-up comedian.
Professional Coach:
David has attracted over 200 well-paying clients from 13 countries - getting a huge 95% of his clientele from the internet. He's been able to create a six-figure business doing what he loves, and now helps coaches and other professionals build their businesses, and create passive revenue streams.
His newsletter mailing list has grown to over 71,997 people in 91 countries. His web sites are listed in the top five on Google and Yahoo. He has been an on-screen coach for an Australian television series and spoken at corporations including Xerox, Ford and General Motors.
Professional Speaker:
Guest speaker at national and international conferences, including the ICF conference in Australia. Topics include:
How to Find Your Dream Job
How to Become a Life Coach
How to Get Your First Fifty Clients
How to Get 95% of Your Clients from the Internet
How to Find Mr. or Mrs. Right
How to Tame The Credit Card Beast
Ready to Work For Yourself? How to Start Your Own Home Business
The Truth About Women - What Every Man Must Know
Entertainer
Singer/guitarist for Sydney pubs and parties, using a very classy combination of kilts, Elvis suits and ABBA wigs and a poor singing voice (1998-1999).
Also currently a stand-up comedian with performances in three states and two countries (2003-Present).
TV, Film and Radio
Insight Program, SBS - 2002: Interviewed as the life coach for 3 girls looking for relationship.
'Single Girls' Channel 9 - 2000: On-screen life coach for this 'real life TV' series. Producer: Fiona Baker
'Guru Conrad' 1999: Pilot for TV Series. Played a devout follower. Director: John Sacomano.
Cartoon Connection (Disney Channel) - 1998: Created and played a character for segment.
Red Faces, Channel 9 - 1998: Performed '500 Miles' dressed as one of the Proclaimers in a kilt.
Radio: Over 17 local and national radio interviews in Australia and the UK.
TheatreSports Performer - 1992-1993: Belvoir St. Theatre, Sydney. Team improvisation on stage.
Various Short Films
Resources Created
Download these very useful questions to use first on your own life, and then with your clients. A great basis for any coaching session.
We've negotiated some great training specials with some of the top coaching schools around the globe. Read reviews of these schools, and download the free 'Independent Report on Coach Training and Certification'.

Tips for coaches wanting to start - or accelerate - their coaching practice.
Would you like us to create a client quiz and host it for you? (You don't even need a web site!) Your prospects can set their top three goals, and then ask for your help to review their goals report ... and you can turn them into clients. Believe it or not, this is currently a free service for coaches.
Behind the scenes of running a business, getting personal with David and out of the box thoughts. Post your comments and let us know what you think.
| | |
| --- | --- |
| How to get your first fifty clients - without being 'pushy'. Lessons from David's speech delivered to the ICFA Conference in July 2002. (online recording) | |
| | |
| --- | --- |
| What's the fastest way to a build a thriving coaching practice? Get inside the minds of people like you who have built a hugely profitable practice from scratch - and learn exactly how they did it. In this e-book are interviews with top coaches on how they built successful coaching businesses. | |
| | |
| --- | --- |
| A step-by-step guide to building your coaching practice. David has compiled everything he knows about starting up your coaching practice - including the basis of a training school's business building curriculum - into a valuable, information packed manual. | |
| | |
| --- | --- |
| A 5-CD set of proven practice building secrets to give you more clients than you can handle. Listen in on actual coach mentoring sessions and find out what really works. | |
Independent Professionals — at last, create a steady stream of high-paying clients using the net, even if you're an internet newbie. Fill your practice while you sleep, and turn your passion into passive revenue!

A double DVD plus 6 CD-ROM set plus bonuses.
Online training library for new and future coaches. Audio clips of live mentoring sessions with topics like building your practice, gaining confidence, and setting up a new client. PLUS audio clips of real live coaching sessions clients from my practice.
I work with people wanting an entry to the profession of life coaching, and with practising coaches wanting a 'business accelerator' from a senior coach.

Life coaching newsletter on having MORE in your life. More fun, more love, more excitement, more peace.
| | |
| --- | --- |
| What Every Man MUST Know (In and Out of Bed). Learn how to create more fun, more sex and more understanding in your relationship. | |
I mostly work with: a) Entrepreneurs wanting to improve, or start, their own small business; b) People who want to get their own coaching business started; c) People ready to find the career they were made for; and d) Executives and managers ready to make changes in their business or personal life.